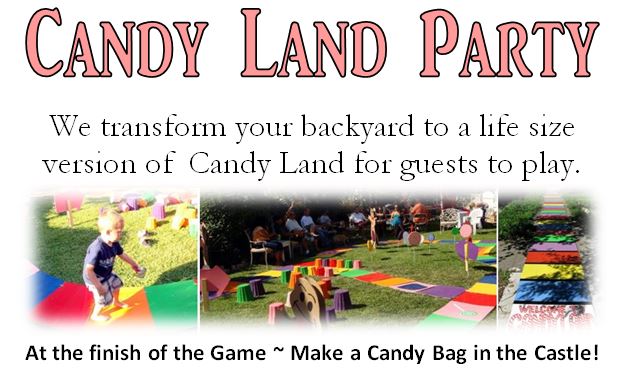 Everyone loves the game of Candy Land and Candy! So why not have a Candy Themed Party of supersized proportions? The Carnival Party brings to life The Game of Candy Land in their new Candy Parties. Whether you just need a game, party or an ultimate party, your guests will enjoy an afternoon of game playing fun as they walk and play through our life sized version of Candy Land. Young and old alike will enjoy this fun! The Candy Party is great for Birthday Parties, School Fun Days, Sweet Sixteen Themes, Weddings and more!
What is included in the Candy Party ?
Party Host to do all the set up and run the party activities for you.
Tattoos ~ Guests can choose from an assortment of sweet tattoos as well as other themes.
Life Sized Candy Game: Set up is flexible, can be indoors or outdoors in areas as small as a one car garage to the size of an elementary gym.
Ginger Bread Man Craft~ You decorate to take home
Candy Button Giant Connect Four ~ Giant White Connect Four with pastel discs
Organized Group Games: (as time and space permit based on the age of your guest of honor and their friends) Peppermint Stick Hurdles, Candy Cane Ring Toss, Gumball Drop Game, Bubble Blowing Competitions and more!
Party Favors for all guests ~ Candy and Party Favor Toys !