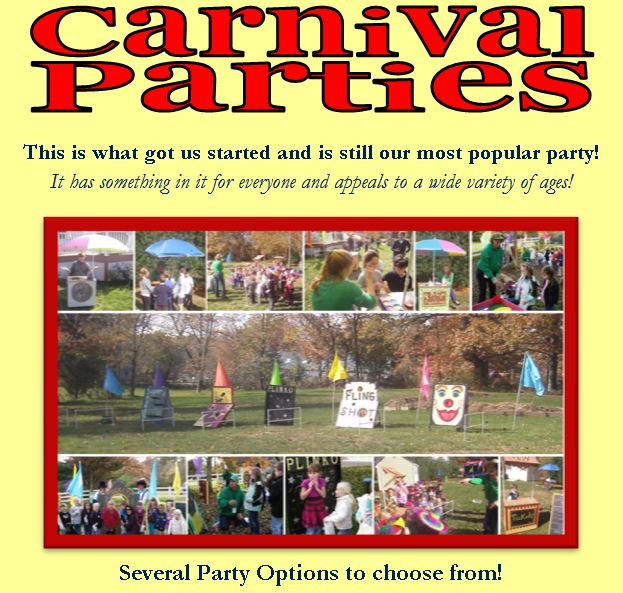 Carnival is a popular theme for celebrating birthdays, old and young! The Carnival Theme appeals to a wide range of ages and interests and has something of fun for everyone! Our carnival games and activities can be easily adjusted for the skill levels of two year olds to twelve year olds with ease so that everyone will have fun!
We offer several carnival packages to cater to individual party needs, sizes and budgets. All carnivals include a Carnival Staff to run your carnival games and activities, all set up and break down of your carnival games and activities as well as flag decorations and background carnival music. We arrive for all events, do all the setup and then run the show. Parents and Grandparents enjoy watching the kids as they play the games and participate in the carnival activities. Adult guests also enjoy the "free time" to socialize among each other while the kids are being entertained and supervised at the games by their Carnival Host.
Our carnival options range from just the games for an hour to our "Ultimate Carnival" Party that is up to three hours of carnival fun, games, prizes, face painting, tattoos, sand art, popcorn and lots more! We do parties indoors and outdoors, year round. You choose the location (your home, garage, family room, rental hall, restaurant, city park, etc), we bring the fun year round! No matter what your need, we have a carnival option for you!
You invite the kids and make food arrangements, we take care of the rest!
Carnival Fun ~1 ½ Hours
Economical option to hosting a Carnival.
Flexible options for indoor spaces
7 Carnival Games & Party Favor Prizes
Sand Art & Tattoos
Carnival Party ~ 2 Hour Party
Perfect for parties of 15-30+
Kids 6-12 years.
Outdoor events or Larger sized indoor locations such as 2-3 car garage, rental halls, etc.
8 Carnival Games & Party Favor Prizes
Face Painting & Spin Art Included
Royal Carnival ~ 1 Hour Party
Geared for kids 2-6 ~ although everyone loves the Carnival Castle!
8 Mini Sized Carnival Games
Carnival Castle
Games & Attendant ~ 1+ Hours
Carnival Game Rental
Attendant to run games.
Ultimate Carnival ~ 3 Hour Party
Best for parties when most guests are 9-12 years of age!
9 Carnival Games & Prizes
Face Painting, Spin Art, Sand Art, Tattoos, Bag Decorating
Popcorn Machine Included
Tents Included
Pie Eating Contest
Contact us today for options and full details!